Flooring Contractor & Installer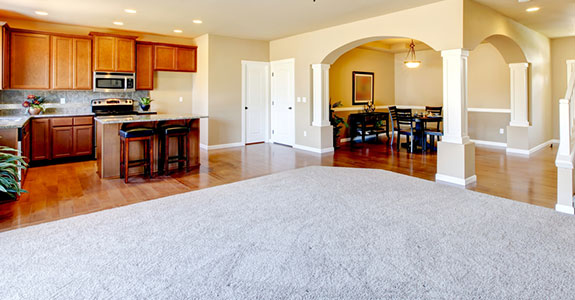 The flooring in your home is defining of each room and the way it feels. Hardwood can bring warmth and luxury; carpet can lend softness and comfort; tile can exude sophistication and strength—with the right flooring application in your home, you'll experience a more complete living space. And, at Power Painting & Cleaning, we can help you achieve perfection, no matter the room or the flooring solution. Take a look at the materials our flooring contractors in Jacksonville, NC are proud to have experience working with:
Carpet: Carpet represents a practical solution to many flooring needs throughout the home and can lend itself to your living space in a number of ways. Carpet is softer than any of the flooring solution, making it great for young children, and is also available in a multitude of colors and styles that can complement a room's various facets. Carpet is also a quieter option and a sound deadening solution, for those more open rooms of your home.
Tile: There's no material quite as sophisticated as tile for a bathroom or kitchen. Tile is highly practical in both of these rooms thanks to its high resilience and resistance to staining. Tile also comes in numerous finishes for an aesthetic that's primed to shine, no matter your décor. Finally, tile can raise the value of your home when applied correctly and is easily distinguished as a reinvestment into your living space.
Hardwood: Hardwood is timeless and beautiful, alluring and luxurious—especially when kept in pristine condition and complemented with other hardwood features in the space where it's utilized. Hardwood comes in various grains and hues and can be laid in various ways to complement everything from kitchens to hallways, dining areas to bedrooms. When kept up, hardwood is a clear investment and one that will retain its value through the years.
If you're seeking a quality flooring solution that meets the functional and aesthetic needs of your home, don't let other flooring companies in Jacksonville, NC entice you with cut-rate solutions or high-margin materials. Instead, let Power Painting & Cleaning deliver a solution that's tailored to your home and absolutely perfect once it's installed. And if you need more than your floors taken care of, don't forget to get in touch about other services, including handyman work and pest control. Contact us a call today at (910) 324-5960 to learn more about how we can assist you in finding the perfect floor solution.